We asked our customers to give us an honest review of their experience renting from North Idaho RV Rentals and here is what they had to say: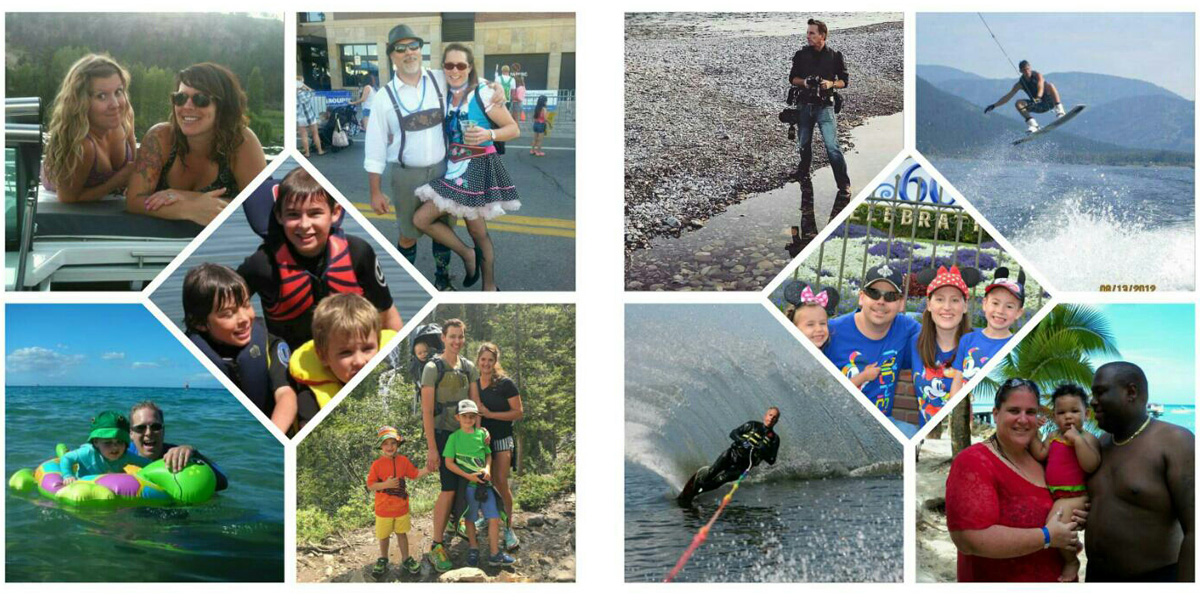 Allan Slavens —


Calgary, Alberta
My family and I had never rented a trailer before and decided to go with North Idaho RV Rentals after a lot of searching around. We are real glad we made the decision we did as another family we were travelling with rented from a competitor and had a ton of problems.
Don was very professional, prompt on returning emails and voicemail's and went out of his way to answer any questions I had. His customer service went beyond expectations, one example was a heavy rain storm had hit us one night, Don was texting me to make sure we were OK first and wanted to make sure we had no issues with the trailer or if we needed anything. You don't find many business owners who take that extra time to check up on their customers, I can't stress how appreciative that gesture was!
The trailer itself was fantastic, everything worked and arrived cleaned. The drop off was painless and quick and communication about the pick up was great.
For anyone looking to rent a trailer in the Idaho area, I highly recommend renting from North Idaho RV, they will not disappoint you.
Thanks again Don and Lily, we will be renting from you again next year!!
---
Edward Ross —


NW Calgary, Alberta
We've rented a trailer from North Idaho RV Rentals every year for the past five years. The trailers have always been spotless and delivered on time. Don and Lily have provided excellent customer service – often checking in with us to make sure everything is going well and have been available if we've had any questions. The little extras they have provided have been noticed and appreciated! We have recommended them in the past to our family and friends and look forward to seeing them again next summer!
---

Sandy Davies —


Calgary, Alberta
Summer 2016 – Thanks again for another great year of camping in Idaho. A huge shout out to Don and Lily, and the entire team at North Idaho Rentals!! For 15 summers we have been getting an RV from Northern Idaho Rentals. Northern Idaho Rentals drops off the RV at our camp site, and when we are ready to go the RV gets picked up. Camping made easy!! We always look forward to the RV and we are never disappointed!
---
James LaGrange —


Struge Grove, Alberta
Great 1st time experience with Don and Lily. Trailer was delivered on time and well kept. Friendly to deal with and overall easy going. Trailer was in good condition and they take care of set up and take down. Can't wait for next year. Looking forward to it. Definitely passing on a good word.
---
Jonathan Howell —


Calgary, Alberta
Best service ever!!! This company is all class! We had the best vacation ever. Units are brand new and spotless. Would recommend this company to anyone. Can't wait to go back next year!
---
Lori Placide —


Kelowna, British Columbia
I wanted to thank Don and his team and North Idaho RV Rentals. They made our first time Camping an awesome experience. We are from Canada and we wanted to rent a trailer for our trip to Silverwood IDAHO. My husband could not get off work so it was just me and my 4 year old little girl. We were very nervous to see if this was legit and what we would find when we got there. Don was very professional on the phone and emails. We pulled up to the campsite to see the trailer there ready for us. It was leveled off, plugged in and the AC was running. All I had to do was open the door and keys were there waiting for us. And when I left, just had to leave the keys on the counter and drive away. Way better than a hotel and the trailer fit us perfect. Don was in constant contact with us even on the drive down. Made us feel very welcome and made sure we were always okay. Thanks Don for making us have a great experience. I already told a few friends and one friend already booked with you for there family trip in August. Thanks Don….. Lori and Nevaeh
---
Scott Nazarchuk —


Calgary, Alberta
We travel to Sandpoint from Calgary, AB every year for a week with our two kids who are two and four; this was by far the best way to camp. The rest of our family bring their own trailers down from Edmonton, AB, but we've always brought a tent. This year we decided to rent an RV from Don and we will do this every year moving forward. After the 6 hours drive with two kids, it was a dream to show up at Springy Point campground to a clean and level trailer. The tank was full of fresh water, two fully charged batteries and Don and his wife where there to greet us upon arrival and go through everything we would need to know.
We rented a generator that came fully stocked with fuel, which came in very handy in the morning and evening since we don't have full hookups at Springy Point. The kids had ample room in the double bunks and the queen bed in the front made for a peaceful and relaxing rest. We ran into one minor issue with the bed while there and Don addressed it the very next morning.
We have already asked my sisters and their families to join us next year and we will all be renting trailers from Don.
Excellent service, thorough explanation of all the trailers gizmo's and gadgets, "like new" and clean trailers. Excellent value for the money and peace of mind. I would recommend North Idaho RV Rentals to anyone. Thanks Don for a great summer vacation!
---
Kyle Davies —


Calgary, Alberta
Have been using North Idaho RV's for about 11 years now, unbeatable rates, nice trailers and amazing customer experience. Many years ago we forgot a very expensive piece of jewelry, two days later it was at my doorstep. We will not be switching rental companies anytime soon and am not shy from recommending North Idaho RV's to anyone looking for a trailer for their trip.
---
Karlynne Sheremata —


We have been renting trailers from North Idaho RV Rentals for 3 years and have had an excellent experience each time. Don and Lily are very helpful and eager to come out to the camp site if we have any questions or concerns. The trailers have always come in pristine condition which we also really appreciate. Thank you for another great summer in Riley Creek! We look forward to renting from you again next year
---
Barbie Cunningham —


Such great customer service!! This was our first time renting an RV and we were so happy with the excellent customer service and how incredibly convenient this was! The RV was all hooked up with the a/c on ready for us as soon as we arrived! It was very clean and the bedding and towels smelled so fresh! We will definitely be doing this every year! Thanks so much for such a great experience! It was so easy!
---
Forrest Tree Cloud —


Don is great. He delivered a beautiful trailer to our son's farm in Clark Fork. We have a nice place to stay when we visit. Clean, well stocked with needed items. We're doing it again this year. Thanks for your help Don.
---
Coolife Holdings —

Don was incredibly helpful with getting us a trailer to fit our family and needs. The trailers were clean and in perfect working condition. The trailer was dropped off, set up and hooked up prior to our arrival and Don looked after everything when we left.
I highly recommend renting a unit from North Idaho RV for the convenience, service and quality. We will be renting again this summer for another 2 weeks. Keep up the great work Don!.
---
Lance Otto —

Don made our camping experience awesome. When we pulled up to the campsite water and sewer was already hooked up, A/C was already cranked up. We drove 5 hours and it was really nice to show up and have the entire trailer ready to go for us. I would recommend this to everyone. It was a brand new trailer, very clean and I will use his services again for sure!!!
---
Stephanie Elton Proseilo —


We've been renting with North Idaho RV for 9 years now. Great Service, friendly, and the trailers are top notch. We would definitely recommend them.
---
Mandy Nespiak-Rolfe —

This was our first time renting a trailer and we were so excited and nervous but it was GREAT, absolutely seamless. They had it all set up and ready to go. It was very clean and in great shape. They even had freezes for the kids and fire wood for us. The customer service was great, Don was very thorough and very helpful in recommending places to check out for boating and hiking. I would definitely use them again. We had such a great time we are already planning our trip for next year. THANK YOU
---
Courtenay Hector —


This experience was fantastic! Don was fabulous to deal with and made our holiday a positive one!
The process was simple and the trailer was clean and held our family of four perfectly! I would highly recommend North Idaho RV to any of my family and friends that want to come and experience a great camping holiday without the extra stress of pulling your own trailer!
---
Jill Webster Bartoletti —


I want to thank you for making our trip to Silverwood amazing! Don dropped the trailer right on time and had it all set up and ready for our vacation. It was I. Brand new condition and perfect for our adventure. I would highly recommend working with North Idaho RV Rentals they are top notch!